Spain | Andalusia | Cordoba | Province | Montoro
Distance from Cordoba: 45 km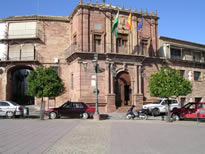 This typical Andalusian town of 9500 inhabitants, declared of National Historic and Artistic Interest, is dramatically perched on a hillside above the Guadalquivir River 45 km upriver from Cordoba. Now Montoro is known for its excellent olive oil and eco-tourism. Just north of the town is the Sierra de Cardeña-Montoro Natural Park.
Game meats from the Sierra, olive oil and honey are local specialities.
The history of Montoro reaches back into the mists of time. Archaeological remains of an Iberian town have been found in the immediate area. During the Roman era, the town was called Epora, and it was mentioned in both Pliny's The Third Book of the History of Nature and The Geography of Claudius Ptolomey. Inscriptions uncovered in Montoro make mention of the Roman "Priests of Hercules."
It became a very important fortified town under the Moors, and in the century preceding its final conquest by Fernando III in 1240, it had changed hands between Moorish and Castillian kingdoms several times.
Sightseeing in Montoro :
Nuestra Señora del Carmen Church

(17th-century): Baroque altar paintings.

San Bartolome Church

: Gothic, Mudejar facade attributed to Hernan Ruiz II; Neo-classic belfry

City Hall

: Formal Ducal Palace (The Dukes of Alba and Montoro). Plateresque facade, Mudejar workmanship.

Santa Maria de la Mota Church

(13th-century): Romanesque capitals. Now the

Montoro City Museum

.
Festivals: Holy Week in Montoro has been declared of National Tourist Interest.
Tourist Office: Plaza de España, 8. Tel 957160089.
Lodging: Montoro has a hostal and several country houses for self-catering accommodations in rural Andalusia.