Several select establishments start up in remodeled palaces. Cordoba to have two 5-star hotels.
If you are one of the select few who travel business class, eat in exclusive restaurants and stay at the 5-star hotels, Cordoba now has something to offer you.
With its first 5-star hotel, Hospes Palacio del Balío , in operation since the Marth 27th, 2007, the city is prepared for the High Society who may just have snubbed their noses at Cordoba's provincial 4-star accommodations in the past (which, let's face it, are not at all that shabby). There is one other 5-star hotel officially on the way and rumors of another.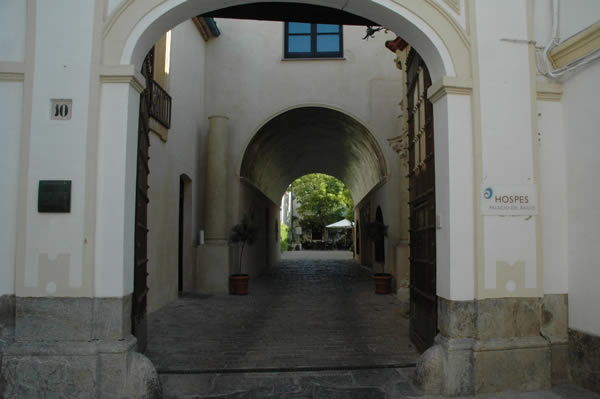 Hospes Palacio del Balio takes both name and form from a palace standing on what has been Cordoba's hottest real estate since the Roman Republic, as the ruins of the upper-class Roman house seen through a plexiglass floor on the premises attest. The 4-year restoration transformed the Balio Palace's sprawling accommodations, patios, stables and other aristocratic trappings into a chic hotel with beautiful plays of light and 53 unique rooms. Besides the exclusive urban palace setting, there is a spa, a small pool and outdoor tables in one of the 3 courtyards for warm summer nights. Very relaxing indeed.
Fortunately, the stables have been converted into some other use, so guests need not worry about animal noises or the smell of manure. A few web reviewers, however, did complain that the latest in designer sinks would not efficiently support their assortment of toiletries. Some of the rooms are not as spaceous as they tend to be in 5-star hotels, as the palace's walls are protected by Spain's National Registry of Historic Places.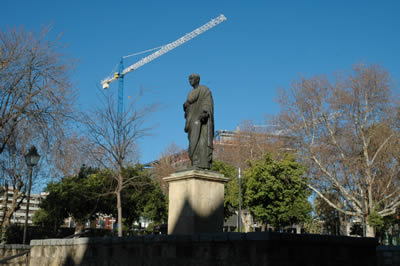 Caption: View of Meliá construction from Almodovar Gate (Statue of Seneca in foreground)
There is a another 5-star hotel going up which will surely have enough space to spread out all of your toiletries in, because it will not be in an old palace. The new Meliá 5-star hotel, which tried but failed to be Cordoba's first shiny skyscraper, is now going up (to a respectably traditional height) at a very convenient location with plenty of building space. In fact, it will be on the site of the old Meliá hotel, which was blown up to make way. Alas, the protesters of decades gone by who lamented the ruined view of Victoria park and the loss of green space to the old Meliá were right about never getting it back. But we will get happy 5-star hotel guests who can drive straight up to their hotel without getting helplessly lost, and then walk 3 minutes across the avenue into the Judería.
Speaking of the Jewish Quarter, there is a 4-star hotel being built in another former palace at a convenient edge of the Jewish Quarter by the Hoteles, Palacios y Casas de España . Its stone facade has some nice peacocks flanking the coat-of-arms, but right now there is just a big crane in the middle.
Another palace which has been tastefully redone, just up the street, has been converted into a very seniorial-looking restaurant called Los Marqueses (The Marquis) that made Michelin's 2008 Guide. As I was taking a picture of the facade, the cleaner invited me in, not minding that I stepped on her freshly mopped floors, to see the decor. I must say that the oil paintings, the wine rack, the crystal chandaliers and the private dining area convinced me that I really need to eat there some time instead of satisfying myself with tasty tapas in well-ambiented local taverns.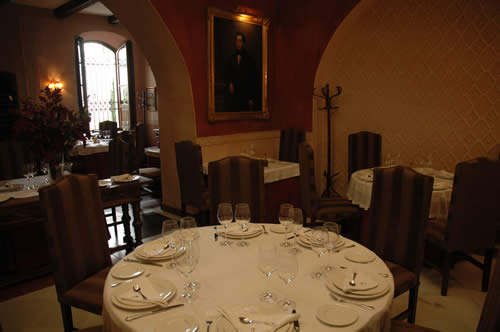 Hospes Palacio de Balío ( Ramírez de las Casas Deza, 10.)
Los Marqueses ( Tomás Conde,8. Telephone: 957 20 20 94.)