| events | history | international | travel |
The 21st Century Has Brought Big Changes to Cordoba (3 Jan 2011)
Major new Spanish museum inaugurated in October 2009! Medina Azahara Interpretive Center and Museum photos (29 Nov 2009).
Cordoba's Palaces Become Elegant Hotels and Restaurants (Feb 17, 2008)
Roman Bridge and Puerta del Puente Under Restoration: Covered in Scaffolds and Art (Jan 29, 2006)

Travel to Cordoba
Cordoba-Malaga connection closer with cheap train service and new motorway (Mar 1, 2008)
Finally a recommendable web site on Cordoba's Holy Week -- From Seville! (Apr 4 2006)
Visiting Cordoba in the Summer (June 2005)
47 Patios to Compete in the 2008 Cordoba Patio Festival (4 May 2008)
A Renewed Crosses Festival Fills Cordoba's Streets (4 May 2008)
Cordoba Hosts Middle East Peace Conference (24 Nov 2005)
Cordoba Hosts International Conference on Religious Tolerance and Anti-Semitism (9 June 2005)
Cordoba History
Cordoba's City Walls and their lasting imprint on the city (Mar 5, 2006)
Christopher Columbus, Isabella and Ferdinand in Cordoba: The Real Connections (Oct 29, 2005).
How to Sum Up the Mezquita - Simple Labels for Complicated Things (Nov 6, 2005)
General
Infocordoba Approaching 100,000 visitors in 2008: How our tourism website started (22 Nov 2008)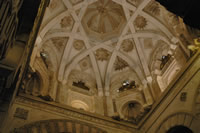 The Mezquita's ribbed vaults were an inspiration to Gothic architects. Our photo appears in Muslim Heritage.com's book, 1001 Inventions.