Cordoba Info
Cordoba Hotels
Restaurants
Food
Photos
Map
History
Monuments
Museums
Festivals
Events
News
Weather
Practical Info
Tips for visitors
Spanish courses
Province
About us
Email

En Español
Cordoba's 2005 Patio Festival was a success, with thousands of visitors marveling at the beauty and variety of the flowers and plants. Homeowners this year worked extra hard to recover from this winter's freezing temperatures--the lowest in 30 years. The City Council also stepped in with grants to replace thousands of flowers in the months leading up to the well-known festival.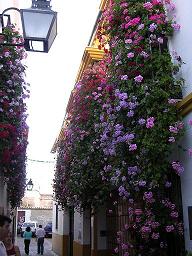 This year's winner in the traditional category was a charming little patio shaded by a 100-year-old lemon tree. Its white washed walls are tightly spaced with blue flower pots bearing a huge variety of flowers: geraniums, dangling geraniums, miniature geraniums, begonias, gitanillas, petunias, fairy roses, azaleas, alegrías de la casa, pendientes de la reina, espina del señor and amarilis, among others. A line of blue flower pots stood on the edge of the flat roof, overlooking 2 sides of the patio, while yet another topped that, hanging from the railings. A white-washed well blended into the corner, and rustic windows provided a tastful contrast to the outburst of color.
I had the pleasure of discovering this patio by accident while planning a sightseeing walk in eastern Ribera district of Cordoba on the first day of the Patio Festival, tucked away in a little corner of a street that I hadn't known existed and beyond the normal stomping grounds for most tourists and even local patio enthusiasts. It turned out that I had found a hidden gem. On the last night of the festival, with a 1st prize to boast of, the patio was full of visitors, which the owner attended to with courtesy and hospitality.
Another category of interest, whose participants does not appear on the maps, is the balcony and windows category. The winner this year is number 10 Tafures street, with its 4 balconies and window totally overflowing with pink, red, violet, and dark red geraniums which seemed to reach across the narrow street and touch the geraniums danging from the balconies opposite. What a sight!
Coinciding with the first days of the Patio Festival, and in addition to its live music and theatrical events, tourists were also able to enjoy the 22nd annual Montilla-Moriles Wine Festival , bringing together 33 of Cordoba's best wine producers with their fino, amontillado, oloroso and Pedro Ximenez wines.
See map of 2005 patios organized into 3 walks (168K) | 2005 Winners
See some photos of the 2005 patios
Traditional Houses
Modern or Remodeled Houses
Prize
Address
Prize
Address
1st
Tinte, 9
1st
Pastora, 2
2nd
Trueque, 4
2nd
Martín de Roa, 2
3rd
Parras, 6
Hon. Mention
Parras, 5
Hon. Mention
Marroquíes, 6
Hon. Mention
Cedacertos, 6
Hon. Mention
Buenos Vinos, 1-A
Hon. Mention
Barrionuevo, 22
Hon. Mention
Pintor Bermejo, 1
Hon. Mention
Barrionuevo, 43
Hon. Mention
Martín de Roa, 9
Hon. Mention
San Basilio, 22
Hon. Mention
San Basilio, 14
Hon. Mention
La Palma, 3
Balcony Competition
1st
Tafures, 10
2nd
3rd
Julio Romero de Torres