Quick Facts about Infocordoba.com:


Started in 2001 as the first English-language tourist page promoting beautiful Cordoba
Received 3,800 visits up to June 2005
Received 243,786 visits since June 2005 re-design
Goal: 1,000,000 web visits before 2012
Shooting for a million visitors
Here at Infocordoba the webmaster is not celebrating yet, but I have reason to be happy. After over 3 years of work, my one-man, amateur web page is showing results: "we" are pushing for 100,000 readers in 2008. I'm on my way to my 1,000,000-visitor goal for 2012, when Cordoba competes for the 2016 European Cultural Capital distinction. But "a journey of a thousand miles begins with a step..."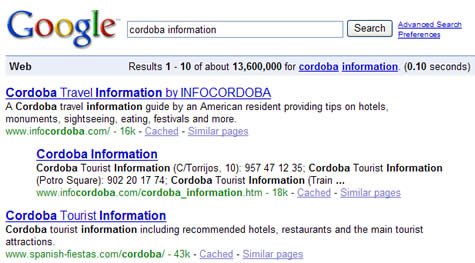 Background: why I started my travel web site
In 2001, Cordoba didn't have a readable, English web site for tourists. There was virtually no tourist information on the internet despite
2 Unesco World Heritage distinctions

(The Mezquita and the Historic City Center), an incredible role in history and decades of complaining about low rates of overnight hotel stays. There was no English-language web site dedicated specifically to Cordoba, and certainly no information written by English travel writers. Just pages embedded in general Spanish travel web sites or bad translations of bad texts in official sites, which rarely appeared in web searches and were therefore irrelevant.

Cordoba has always been known to have an aristocratic, self-sufficient air. "Perhaps everyone should appreciate Cordoba's beauty and importance," local organizations may have thought, "without lowering themselves to... marketing." The city that was capital of the western world 1000 years ago didn't think they needed Google, or culturally appropriate travel articles in legible English.
Designing a modest tourism web site on a low budget


So that summer of 2001, I bought a domain and hosted it on a free web server. I put up some basic information about Cordoba and a history timeline. I kept my pages light and crisp, for quick viewing. And although I stated that it was not an official web site and there were silly ads at the top of my pages for free web hosting, it was often mistaken for the local tourist authority and even linked to as such.

Why did I go to the trouble? First of all, I love Cordoba and I love showing people around Cordoba. Second of all, as they say, "if you want something done well, do it yourself."

In 2005 I overcame writer's block by adopting a pseudonym and confirming once again that anything I could write about Cordoba was an improvement. And so I began to promote my favorite city in the world on my own time and at my own expense.

I was overjoyed when I started averaging 20 readers in a day. I kept writing and later in the year it reached 100. I poured over web statistics to check which pages were popular and which were flops. I started getting emails from all over the world and I stayed up late answering them. My wife complained that I was spending too much time at the computer.
A one-man travel web site powered by "free" labor
I didn't only research everything related to Cordoba and write unique, quality content, but I learned good web design and constantly adjusted my pages and web site to make them more visually pleasing and user-friendly.
The total lack of interest from Cordoba hotels and restaurants did not stop me. Nor has the lack of interest from Cordobans and Cordoba institutions up to now. I have made no press releases, and apparently high rankings in search engines do not draw the necessary attention from Spanish-speaking locals (not one email or guest book congratulations to date), even if they have always lamented their being overshadowed by flashier cities like Seville or mass tourist destinations like "The Costa".
But a quarter of a million visitors have visited my page, and even my poor cousin Spanish-language section has drawn significant readership, with occasional e-mails from other parts of Spain.
Is success really what we want?


Certainly, a well-informed visitor to Cordoba leaves this city with a special experience. This gives me a warm feeling inside, and it generates local jobs, too. I always thought that if you wanted to show more travelers this beautiful city, you needed to reach as many people as possible. A few years back, the City Hall announced its candidacy for the 2016 Cultural Capital of Europe. Certainly, we need a good web presence and a lot of name recognition to achieve these things.

But do I really want a lot more tourists in Cordoba, crowding the quiet streets, competing for parking and packing my favorite taverns and restaurants? The answer is no. Sustainable tourism is the key. Preserving Cordoba and its culture, while remaining intellectually open is vitally important. Maybe it's better that Cordoba remain a well-kept secret among discriminating travelers, visiting artists and academics.

Tony Reed, 22 November 2008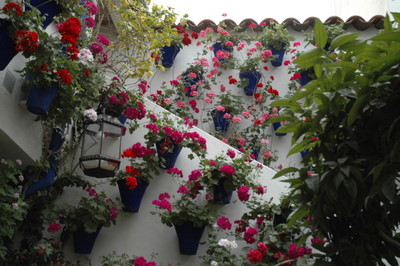 If you are a webmaster of a quality travel site of similar characteristics, don't hesitate to send me an email so we can compare notes on SEO.