Opening Times: Cordoba Information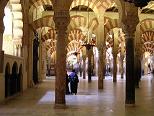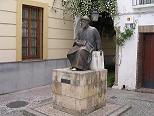 The Mosque-Cathedral (***)
The Mosque of Cordoba was built during the 9th and 10th centuries and consecrated as the cathedral in 1236. A Jewel of Hispanics art, the Mezquita, with its 850 columns, double arches and Byzantine mosaics, is a legacy of the Umayyad Caliphate in Spain. In the center of its forest of columns rises a 16th-century cathedral. [read more about Mosque of Cordoba.]

Alcazar de los Reyes Cristianos (*)
The Alcazar palace was built in the 13th century by King Alfonso XI, and until the late 15th century, the kings of Spain used the Alcazar as a royal residence. The palace has two courtyards and Arab baths.
On display in the Inquisition Tower are impressive 2ndC Roman mosaics-discovered in Corredera Square-and a 3rdC Roman sarcophagus carved from one piece of marble.
The renaissance gardens, refreshed by abundant fountains and pools, are in Arab style. Statues of the kings of Spain are contemporary. [read more about Alcazar of Cordoba]
The Jewish Quarter (**)
The Jewish Quarter is the best-known part of Cordoba's historic centre, which was declared a World Heritage Site by UNESCO in 1984 and is one of the largest in Europe. To the northwest of the Mosque-Cathedral along the city wall, its medieval streets have a distinctly Moorish flair to them, reminiscent of the Jews' prosperity under the Caliphate of Cordoba. This neighborhood's history is a history of the Caliphate and of the West. Of special interest are the Synagogue and Souk. [read more about the Jewish Quarter in Cordoba]
The Roman Temple
Next to the City Hall are some of the columns, the foundation and altar of Cordoba's Roman temple, probably dedicated to the Emperor Augustus [read more about Roman temple ]
Medina Azahara (Medinat al-Zahra)
Ancient capital of Al-Andalus at the height of the Umayyad Caliphate's power, Medina Azahara (Medinat al-Zahra) was built 11 km west of Cordoba beginning in about 941. Today 10% of the city has been excavated, including Abd al-Rahman III's palace, and the large archaeological site makes a great excursion.
Other Cordoba Monuments and Attractions